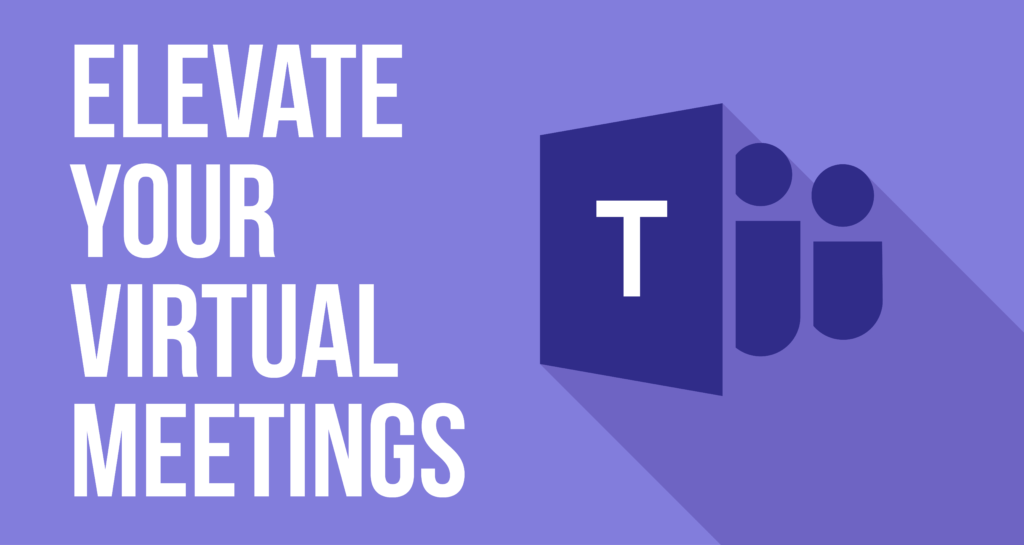 Elevate Your Virtual Meetings with Microsoft Teams
Teams has been hard at work adding more new features to its virtual meeting interface due to increase demand. Here's some of our favorite perks when turning to Teams for your online gatherings.
Crystal Clear Visuals
Depending on your participant's internet bandwidth Teams has made quality audio and video a priority since its inception. It's part of the reason why originally users could only see up to four people in their meeting screen at once. But after increasing the number of visible participants, the call quality of Teams meetings has never suffered lending itself to an exceptional overall experience.
Impromptu Meetings
Sometime you just need to have a quick meeting with your coworker(s), maybe to clarify information on a project or discuss a potential obstacle, you don't have to pre-schedule and join a 5-minute meeting, you can just give them a call. Whether it's a group assigned to a Teams Channel, a few people you keep in a Group Chat, or a hand selected list, impromptu Teams meeting are easier than walking to your coworker's desk.
You can even add more people to a meeting as it's happening if you realize you left someone out.
Break Out Rooms
This is a brand-new feature for Microsoft Teams and one that is much needed. Large virtual meetings can be difficult when participation from all attendees is needed. Teams expanded to include a breakout room feature allowing hosts to split their larger meeting up into smaller more manageable groups for peer discussion.
Only hosts can create breakout rooms and they have to be managed from the Teams desktop app, however that is only one of the few restrictions to using this handy tool. Hosts can manually break out groups, or have Teams randomly determine breakout room participants, hosts can also bounce back and forth between rooms, send announcements to each room, and call participants back to the main meeting when needed. Users are even free to jump back and forth between their breakout room and the main meeting to ask clarifying question to the host.
Note-taking made easy
There are two exceptional but often overlooked tools available in your Microsoft Teams meetings that will make you look like a meeting pro, and those are Meeting Notes and Whiteboard.
Whiteboard is the perfect tool for brainstorming sessions that would typically happen in-person. When brainstorming as a group there's often a much freer flow of ideas, and a more relaxed style of notetaking. The Whiteboard feature in Teams allows participants to write directly on a whiteboard-like surface, post virtual sticky notes and then export the whiteboard for users to access later either for reference or to type up as a more structured summary of topics.
Meeting Notes utilizes Microsoft OneNote as another way for users to take notes during the meeting and share with other participants once the meeting is over. OneNote is a very free-form notetaking app which makes it incredibly easy to take quick notes without missing parts of the meeting.
Better Yet Record It
Teams allows for participants to record the entire meeting for viewing later. Once the meeting has ended the person who started the recording will get a notification that their meeting is ready for viewing on Microsoft Stream. Unfortunately for now, Stream still only allows for sharing within your organization, but you can download the video file and share with other participants.
Bonus: You can utilize closed-caption and transcripts of the meeting to have written documentation of the conversation, and even edit the transcript as needed.
Noise reduction
Nowadays, getting work done sometime means working from wherever, whenever we can. However, that doesn't always leave you in the most ideal conditions for a virtual meeting. Fortunately, Teams has just launched a noise reduction feature specifically aimed at work-from-home users. There are some hardware restrictions to this feature, but for many machines this means turning down the mic on your barking dog or fussing children during your at-home meetings.
Outlook Calendar Integration
One of the reasons people are skeptical of using Microsoft Teams is because they don't want another app they have to keep track of, we understand, that's a fair hesitation. But to argue that point, the more places you have to turn to when keeping track of information, the more opportunity there is for things to fall through the cracks. Teams integrates directly with your Outlook Calendar and Scheduling Assistant. You can create a Teams meeting from the Teams app or from your Outlook Calendar, utilize Scheduling Assistant to see if your coworkers have any appointments (including Teams meetings) on their schedule before you invite them to a new meeting, and all the information for accessing the meeting will also be available in both apps.